Hire staff across Scotland for Road Shows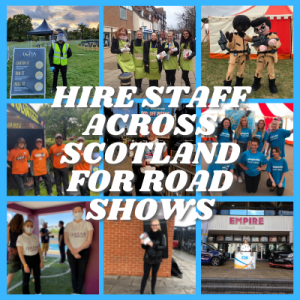 Roadshows play a vital role when it comes to marketing and promoting your brand. It is the visible image of your company, on the road, talking to people in everyday settings. No matter whether you are seeking to raise awareness, introducing a new product or service, or just focusing on passing out information – roadshows are the perfect solution.
But you do need top quality staff to make sure that every aim is met. Trained, professional roadshow teams can make your roadshow a success.
Why hire temporary staff?
As a company, you have invested in your brand developing every aspect from logo colours to promotional content. This needs to be represented in the roadshow activities, ensuring that people instantly know who you are and what you are doing.
Hiring a professional team to take your roadshow to venues in Edinburgh, Glasgow, Inverness and other locations is a win-win choice. Every member of the team is trained to deal with every eventuality, every problem that might occur, and above all, to promote your brand. Nothing will go wrong.
As a specialist promotional staffing agency, we can provide the personnel you need for your roadshow. Whether you are looking for teams to cover a few days or a long campaign, we can provide a team who will be with you throughout the event. They will provide consistency, ensure that your event message is always to the forefront. You can trust them to do their job and promote your company exactly as you want it to be promoted.
We train and monitor our staff. We ensure high quality and professionalism at every point. We know that no two roadshows are ever the same, unexpected problems or issues can arise. Our team will rise to the occasion, no matter what is happening around them. They will be fully briefed and ready to start the moment they arrive, adapting their style as required. Above all, they will interact and promote your brand, making sure that every visitor leaves with a positive, emotional connection.
Leave it to the professionals!
You have invested time and money in setting up a roadshow – so be prepared to do the same for the people who staff it. Using professional teams will enable you to cross the final hurdle and achieve all your aims.
Email or call us today to find out how we can help you organise a successful road show in Scottish cities and towns including Edinburgh and Glasgow.