Hire Temporary Sales Staff Across Scotland
As a retail business, there will be exceptionally busy retailing periods in a year. From flash sales to seasonal selling opportunities such as Valentine's Day and the build-up to Christmas, these are the pinch points that place more pressure on your staff and staffing levels.
You could struggle on through, with your staff racking up hours of overtime. But what if your staff team can't possibly give any more? What if there just isn't enough staff on the shop floor?
When you don't have enough staff, to customers it seems that customer service is poor.
This leaves a poor impression on customers and for your brand, this is not good news.
There is an alternative and one that brings many benefits to your business – hiring temporary sales staff in Scotland.
The benefits of hiring temporary sales staff
* Staff with the skills you need
At Promotional Models Scotland, we have hundreds of talented staff available with diverse skills. From successful sales staff to administration staff, we have the right people with the right skills.
* Hire when you need them most
Whether it is for the day-long flash sale you have planned, for the pop-up shops you are planning across major towns and cities in Scotland or in the weeks leading up to Christmas, you hire temporary sales staff when you need them most and for as long as you need them.
* Cost-effective
When you hire temporary sales staff, you are hiring people who offer a responsive service. Quick to respond to what your business needs and what your customers want, by hiring sales staff when you need them most, you keep overheads to a minimum – and your business enjoys the profit.
* Business reputation
No more customers unhappy with customer service or complaining that they can't get what they want when they want it. Temporary sales staff are a planned business response to critical sales points at certain times of the year. You can hire a team for a one-off event, to cover staff holidays or illness as well as during busy retailing periods.
* More sales
We work with many retail clients across Scotland and they take the opportunity to hire temporary sales staff to make even more of events, sales and busy trading periods. You will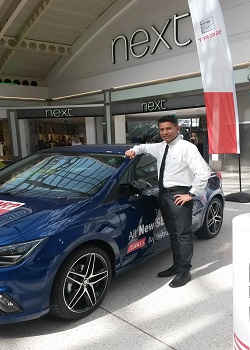 see an increase in sales because that is what our trained sales staff are excellent at doing!
How to hire temporary sales staff from Promotional Models Scotland
We provide a range of exhibition staff, event and retail services for our customers throughout Scotland. With an established reputation for providing exceptional quality staff, your business will benefit from hiring temporary sales staff.
From trade shows to exhibition, events and more, our temporary staff are the perfect cost-effective addition to your business or business project.
To find out more or to request a quote, email Promotional Models Scotland with more information about your project, when you need temporary sales staff, for how long and so on. Or call us on 0844 800 0071.