What is the Edinburgh Fringe?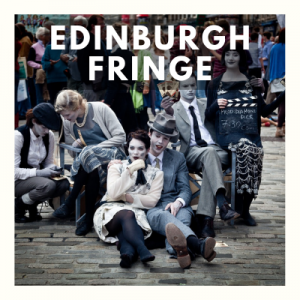 The biggest arts event on the planet is back – the Edinburgh Fringe Festival is renowned worldwide. The Edinburgh streets are filled with thousands of people watching buskers, enjoying the atmosphere and visiting shows held all over the city. And that's only the visitors! Add in several thousand more performers covering almost any type of creative activity from dance to comedy, interactive art to film and the sheer scale of the event becomes apparent.
Lasting 25 days, the Edinburgh Fringe Festival has been known to host over 53,000 performances of around 3,500 shows in 300 different venues.
Attending and/or participating in the Edinburgh Fringe is much sought after by artistes and performers. It is often an opportunity to spot the stars, discover new talent and enjoy live performances by top names.
It is a far cry from very first Fringe Festival back in 1947. The UK was recovering from the pressures of wartime, and seeking ways of stimulating the economy. The launch of the International Edinburgh Festival was immediately popular, drawing people in from far and wide. Recognising an opportunity, eight local theatre companies decided to try and attract some audiences by providing performances in small venues. The Edinburgh Fringe was born.
The number of events grew rapidly, with its informality appealing to entrepreneurial performers seeking new outlets for their work. No invitations are ever needed to take part. All they have to do is find a venue (which can be anything from a theatre to a garden or pub), create a show, promote it and then give a performance.
Over the years, the Fringe has adapted and changed to match the changing needs of audiences. Shows can be very controversial – attending a Fringe show can be a total surprise as no one (apart from the performers) know just what might be said or done on stage. As a result, it can sometimes seem offensive depending on a person's viewpoint. Creative freedom is all-important.
Nowadays, potential performers can seek help and advice from the Fringe Co-ordinators – help that is especially welcome when trying to identify venues, promote a show, and find staff to organise seating and any security required.
Hire staff to work at Edinburgh Fringe
Bringing in specialist help from Promotional Staff Scotland is a popular option since they can provide temporary event staff, covid marshals, stewards and even promotional staff to help attract public attention. Getting in touch as early as possible during the planning stage is essential – good staff get booked up quickly at the Edinburgh Fringe!