The benefits of a survey….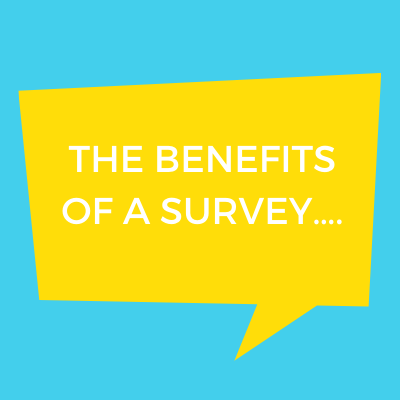 Surveys are a useful tool for working out what your customers and potential customers consider either before making a purchase, or choosing you over your competitors. It will give you welcome insight into what their decision-making style is, how confident they are at the moment about trying something new – and what they like and don't like about your organisation or brand. You can even ask people who have completed your survey to do a few tests, maybe send a sample of your product and ask them to feedback. It really is entirely up to you how you use this powerful tool.
The information can be used in all parts of your organisation – from the NPD department or sales, to how you market to your current and potential customers in the future, be that via email marketing, blogs, social or other channels. General topic surveys can also be used for local PR and can get your name in the press – which can really raise your business' profile. Your survey could be part general, part specific, it really is up to you.
Example of how a survey could benefit your new company
Say you were opening a new barber shop – perhaps you could survey people with beards – how have they coped in lockdown, what did they miss most about not being able to have their bead trimmed in person. How much do they believe it grew in lockdown? Some of these responses are nice, gimmicky ideas for PR, but what they missed the most about not visiting a barber will give you some valuable insight, and perhaps where you set yourselves apart for the competition when you open.
How do you set up a survey?
There are a number of different types of software out there available to you. From Smart Surveys and Survey Monkey to more specialised pieces of software – you can ask people to take part in a written survey, a video a physical sample survey… its entirely up to you.
Youcan also do face to face surveys by using experienced promotional staff.
And how can we help?
Well in Scotland we have a pool of over 12,000 staff for you to choose from if you need to ask specific questions from a specific demographic. So you could use your current customers and then bulk up the survey with Envisage staff. This could be from a specific region of Scotland, or age group, or gender – it really is your choice.