Exhibition Staff Agency Scotland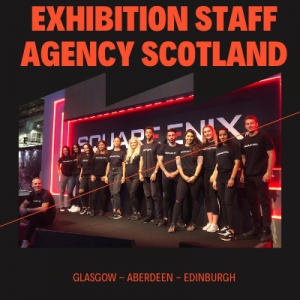 With Scottish Exhibition venues like the SECC and The Royal Highland Centre re-opened for business and consumer exhibitions, demand for professional exhibition staff is rising.
As a long established, specialist exhibition staff provider, we guarantee to provide the staff you need to make your exhibition a total success.
With thousands of local staff available to work at all the Scottish Exhibition venues including the SECC and The Royal Highland Centre we can provide you with:
• Exhibition stand hostesses
• Hospitality hostesses
• Promotional staff
• Exhibition staff
• Receptionists
• Costumed characters
• Presenters
• Demonstrators
• Sales staff
• Lead generation staff
• Coffee baristas
• Event hostesses
• Event organisers
Our exhibition staff are always….
Punctual, fully briefed and reliable – From the moment they arrive at your stand, to the moment they leave, our staff are ready to work and be excellent brand ambassadors for your company. They will be familiar with your company background, know about your products and services and can engage with visitors on a professional level.
Enthusiastic, Energetic and Outgoing – Our experienced exhibition staff are enthusiastic, outgoing and energetic. They enjoy meeting new people and talking to them. Every member of staff is accustomed to busy, commercial environments and are able to deal with all types of visitors. Some staff also work as actors and performers so can take on costumed roles and really make an impact.
Fully trained and professional – Our exhibition staff are fully trained to use equipment such as badge scanners, iPads and other technology.
Experienced – Every member of our staff is accustomed to working in exhibition environments. They can undertake a wide range of roles on exhibition stands including data capture, lead generation, demonstrators, hostesses and dealing with sales.
Our service -Our service is second to none. We only use staff who live close to the appropriate Scottish exhibition venue such as The Royal Highland Centre so that they can provide local knowledge and assistance.
The feedback we receive from clients is always excellent, with clients keen to rebook us. We are part of the Envisage Agency Group – see our Google reviews here!
Talk to us now about your requirements for your next exhibition. We will listen, discuss your needs and find the perfect staff for you.