Creating a good Exhibition Stand Team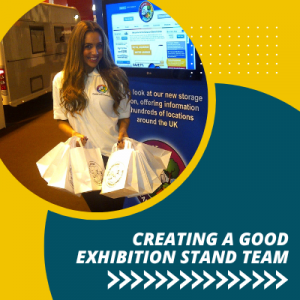 Are you looking for an exhibition stand team that is efficient, reliable, enthusiastic, friendly as well as understanding your brand, product and service?
It might sound a tall order – but it is achievable. With a little bit of thought and preparation, you can create the perfect mix of people for your exhibition stand.
How can this be done? The answer is preparation and forethought.
Stand preparations
Begin preparing well in advance of the event. Remember that your brand will be on display and you want to make sure it is well presented. Think about what mix of talent and skills your ideal exhibition team will require.
Remember that no two events are ever the same. You have to treat each exhibition individually. There will be a slightly different audience at each one. The team you used at your last exhibition might not be suitable for the next one. It is important to choose your team with a specific exhibition in mind.
What key skills will be needed?
Exhibition team members need to be:
• Approachable – they need to be able to pull people from the aisles and into your stand
• Decisive – they know what key questions to ask and when to do so
• Knowledgeable – they really know your product and service
• Conversation – They can identify leads and undertake conversations that will allow you to follow up the leads afterwards
• Tact – they can recognise when it is time to move someone on, so as to give more time to interested buyers
Exhibition stand numbers – As exhibition recruitment specialists, we often get asked how many people should be in a team.
To make an effective decision, you have to look at the exact needs of your stand. The bigger your stand, the more people you will need. Likewise, the bigger and more important the trade show, greater numbers of team members will be required.
Most customers who are really interested in your product will be prepared to wait for a minute or so to allow staff to find the right person for them to talk to. But this only works if you have a professional team on site able to identify and help such customers so that they are not left waiting too long.
What is most important is the quality of your team members, rather than the exact numbers. Having quality staff means that no potential sales opportunity is missed.
During the event
• Make sure your team is working effectively during the exhibition.
• Apart from talking to potential customers, they should
• Be familiar with every part of the stand, and able to deal with any queries such as where marketing materials can be found, or Wi-fi log in details
• Undertake basic maintenance. Stands can quickly become untidy and unattractive with empty cups left lying around, piles of brochures knocked over or mixed up. Every team member should be prepared to tidy up instantly they see something out of place.
What they shouldn't do!
• Stand in a huddle and chat among themselves. It gives a very unfriendly, unapproachable impression to visitors
• Block the main entrance point to the stand. This prevents people seeing what's on offer and can deter visitors. Staff should always stand towards the back of the stand if they are not dealing with a customer.
• Pouncing on people. Give passers by time to browse, don't jump on them immediately they approach the stand.
• Eating, drinking and chatting on the phone. This can create a very unprofessional appearance. Eat and drink away from the stand, or out of sight. Business and personal calls should not be taken while working on an exhibition display stand. It suggests that visitors are less important than your phone call. Organise a timetable for break periods – everyone needs a few minutes peace to re-energise ready to deal with more visitors.
Finding the right exhibition staff is easy. Just contact us. We will do the rest!