Restaurant and Event Hostesses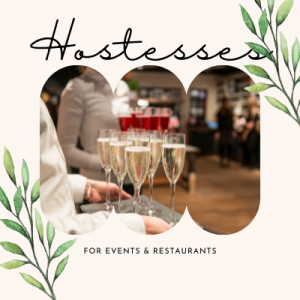 Ever thought about being a restaurant or event hospitality hostess? You don't need any experience. It is a fantastic way to discover how a restaurant/event operates, as the hostess plays a crucial role ensuring its success.
It involves more than just showing customers to an empty table. You could be helping clear tables, take customers their drinks order, providing refills or dealing with queries. The hostess is the face of the restaurant.
Follow the restaurant rules; they will help you cope with the demands of your first hostess job.
Keep to the rotation
This refers to where guests are seated within the restaurant. The floor plan will show the different tables, and how they are split up between the different waiters.
You have to make sure that each waiter has a fair share of the work, and tips. So, the first guest is placed at a table in the first section, the next guest in the second section, with the third customer in the third section. Then you go back to the first section, and rotate through the different sections. Only if the customer asks for a specific seat, such as a window seat or a quiet spot, should you divert from the rotation. If that happens, seat the customer according to their preferences, then go back to the rotation avoiding whichever section you have used.
Help the waiters
Be prepared to help out. Clear tables and take drinks to customers when it is really busy. But always check first with the waiter in that section. You don't want to upset them.
Be prepared
Wear comfortable shoes. You are going to be on your feet for a long time. Your feet will get tired! It is also important to make sure your shoes are slip resistant. There will be liquids and food spilled on the floor at some point and you don't want an accident.